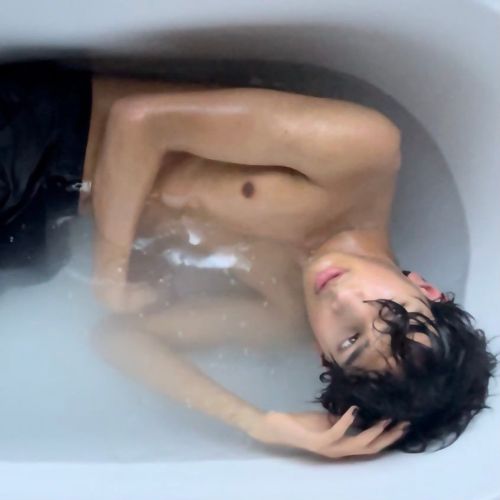 On 9920DEADLINE, Rosesleeves blends the many styles he's been working with over the past few years into one, cohesive album that's easy on the ears without lacking in ideas or force. So far in his career, the 17-year-old UK producer and songwriter has explored fractured art pop inspired by acts like FKA twigs, infusions of dance genres like 2-step garage, and bedroom-spun indie balladry — all in ways that are unique on his side of SoundCloud. The album sets his intimately-recorded voice in crystalline synth work that manages to encompass all of these without feeling like it's taking any detours. It's cavernous, but oddly relaxing, capturing his description of his music as "therapy" for himself as he grapples with inner turmoil and the world around him.
Music that feels so practiced coming from someone so young — self-taught and self-produced — is impressive, and it'll be exciting to see him develop his music in the years to come. Rosesleeves even took the promotional photos in this article himself out of a desire for full creative control.
In this article for The Browser, I sat down with Rosesleeves following the release of 9920DEADLINE for his first-ever interview. We fought through my unfortunate Internet connection for a quick Zoom Q&A about his introduction to EDM as a tween, some of the collectives he's a member of, and the life experiences and inspirations that led to the album's creation.
---
I wanna ask you about the Timothee Chalamet movie "Beautiful Boy." You sample a scene from that film in almost all your songs. What about that movie, or that scene, captures your attention?
I'm not sure. I watched that movie maybe a year ago, and ever since I saw it I thought it was just a really, really good movie. I think if anyone hasn't watched it, I'd recommend it -- I think it's quite good to watch. Been using it ever since.
You just put out an album called 9920DEADLINE. What does that title mean?
That's a date. It's the 9th of September 2020, which is the date I came out to my parents.
Was that a concept you were trying to get across within the album, as well?
Somewhat, yeah. I guess the whole project was internal processing and where I was before and after, trying to sort myself out, I guess.
Tell me more about that.
I guess it was just difficult; keeping something in for so long, obviously it needs to come out in some form. That's always been music for me. The "DEADLINE" part was just the idea of: "alright, this is the date, I need to get it done and start living the way I want to." And that was through music as well: "I need to start getting myself together, not just copying other people, and start making what I want the world to see me as."
You're working with a lot of sounds on this album that almost nobody on your side of SoundCloud is even touching besides you. I hear some garage stuff, some trance stuff. Are there any specific artists that you can credit with inspiring the way you implement some of those dance music styles?
I can't think of artists in particular — I think that's because of what a long journey it's been, and all the different genres I've been through getting to this point. I'm 17 now, and I started when I was 12, and for the first three, four years, I was going through literally every single side of EDM and learning to produce. Flume was obviously quite a big influence, because he's just so experimental — I love his work.
How did you first get into making music when you were that young?
I've always wanted to, so even before that I was always trying to make stuff on my iPod Touch and on my phone. But at that age...I don't know if anyone else was getting it recommended on their YouTube, but those Launchpad Light Show videos on YouTube, I thought they were so cool, and I wanted to try them out for myself.
So I saved up and I got one, and it came with a free trial of Ableton, and I realized: "wait, I can do so much more than just do light shows with this, I can make my own stuff," which is what I'd always wanted to do. And for...I think my 12th birthday, my parents bought me the full version, because I'd been asking them. And that was the start!
I want to ask about some of the groups and collectives you're in. You're one half of Cat Paradise with Yung Thom. How did the two of you originally link up?
We met last year in January, and it was because I'd been listening to him constantly for months and months before. He had been a heavy influence for that part of time, so I wanted to make music with him. I just sent him a DM, and that's where it all started.
You're also a member of Sewerbratz. How did that group come together?
I founded that group. That was in November 2019. Basically, at that point I was doing some sort of exams at school, and I remember I wasn't going to be able to keep up with music as much, so I needed some sort of support system, and some people to keep the music going even when I didn't have the motivation, so that's when I found most of those people.
One of my favorite songs of yours is "Help Me," the one you did with osquinn. How did that collab come about?
That was super random and super quick. The original demo of that song, I had made about five months before the actual song happened. That was during lockdown here, and I was really productive during that time; I'd been making a lot of stuff, and I still had a lot of drafts from that time which I never ended up finishing. With that one, by the odd chance, I decided to finish it up and send her a demo. She said she loved it, and within a week it had come back to me, I published it up, and we dropped it.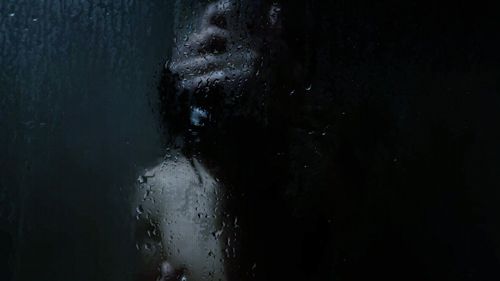 Are there any other artists we haven't mentioned so far that you can credit as influencing the way that you sound?
I'd say FKA twigs. I love how experimental her stuff is; her latest album is insane. As of recently, Mitski has been huge -- just the emotional content in her songs is insane, and I love trying to do that in mine. Radiohead, for the past 2 years, has been quite a big influence, again in terms of being emotional. That's who I can think of off the top of my head, but there's definitely more.
Are there any artists who you'd really like to work with in the near future?
In the near future, I've actually decided to just try and work on my own skills and stay solo for now, just working with my close friends. Sewer, pretty much.
If I had to give you a bucket list of people you'd really like to work with at some point, are there any artists there you'd like to mention?
At some point...I'd say Diveliner is really cool, and I'd love to work with Diveliner. I would say Mitski -- just because she's such a huge inspiration, and I think her music is so, so cool. I can't even imagine what a song between us would sound like, but I would love to hear it. A song between me and dltzk would be very cool, as well. Again, I'm not sure how it would sound, but I think it would be cool.