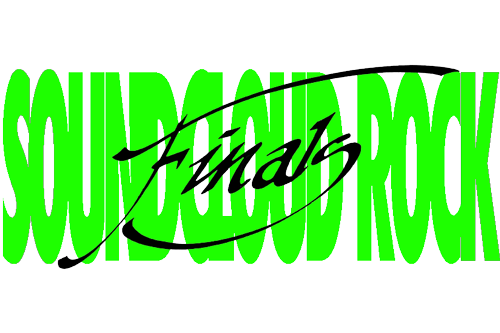 Behold, the next evolution of rock music:
SoundCloud rock is basically teens constructing rock music like it's rap music, producing the work of "the band" in their bedrooms on workstations. Guitars either go through the AUX, or are approximated as VSTs. Vocals are potentially recorded seated, in a gamer chair. In a typical rapper move, "opens" are left for other vocalists or crews. One of the main people doing it is Juno, whom we interviewed here. The song above features Raegun, also interviewed here.
This all strikes me as a fundamental shift in rock songwriting. Consolidating expertise here, collaborating more there. Updating the framework for the extremely-online.
Here's a sprawling RYM list that about 70% expresses "SoundCloud rock" to me:
♫☁(Sound)CloudRock♫☁ / ☾☽♆DreamMetal☾☽♆ A list by _aleph
This is a breaking genre, but at the moment the most pure practitioner of SoundCloud rock has got to be Juno, and the biggest song might be Midwxst's "Trying" (we also interviewed Midwxst here).
I think it's all a mutation off what Lil Peep and Gothboiclique did with their so-called SoundCloud rap from L.A., circa 2016. Nobody really wrote much about how they stood apart, but their take on SoundCloud rap always rocked a lot more than their peers'. Back then "#alternative rock" was a favorite hashtag of SoundCloud rap in general, but the wider genre was really less about rock fusion and more about rap that went hard, often in an EDM festival way.
The ten-member (?) GBC was/is different. The crew was more indie/emo rock than everyone else in SoundCloud rap, with many members coming to music through playing in bands, then making beats, and then attempting a mixture.
After Peep died, GBC dived further into the rock side of their rap-rock, innovating while going back to their roots. fish narc really came into his own as a guitarist, and YAWNS and Cold Hart gelled as an unofficial duo. Everyone had moved to the east coast. It was their New York City era, these past few years.
Meanwhile hyperpop became a genre, with 100 Gecs taking rap-rock from the 2000s and glitching it/rewiring it for the era of Nightcore SoundCloud remixes. And underneath that, digicore sprung up, which took more of a singer-songwriter approach and began to pull liberally from pop-punk and emo rock as well, a la Peep.
Amongst the underground, that Peep/GBC history is known. And could be why fish narc now crosses the generation divide, making jams with 8485, blackwinterwells, and cat mother fka osquinn. He's one of the few people from "SoundCloud rap" proper who seems to have currency in the new-SoundCloud era.
To me, the main evolution of SoundCloud rock was Peep making it OK for a rock band to have no players on stage and everything go through the AUX. And now that that's established, digicore is taking it in even more synthetic directions.
SoundCloud rock also seems to be as social as early SoundCloud rap, where everyone worked with each other freely. Right now producer collabs are equally as cool as vocal collabs, and the ideas feel like they're flowing.
I'm here for it all and frankly wouldn't be surprised if SoundCloud folk became a thing next. Or SoundCloud jazz. Fuck it, SoundCloud opera. We had opera, then rock operas, then hip-hoperas. It's time for the SoundCloud opera. SoundCloud rock is only the beginning! And on that note I'm out.