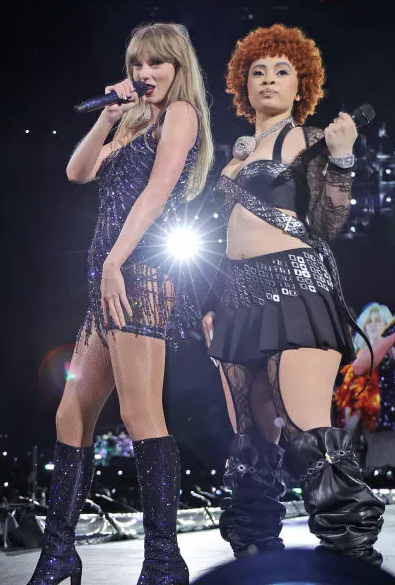 Last year was when Ice Spice broke through with her pop twist on drill, and in 2023 she's been slicing deeper into pop culture, eating photoshoot after photoshoot, crossing off life goals like adding Nicki Minaj to the remix of "Princess Diana," and crafting a SOTY contender with Pinkpantheress, the fizzy, flawless "Boys A Liar Pt. 2."
To complete the crossover, yesterday Taylor fucking Swift dropped her remix to "Karma" with Ice rapping on it (not a hugely impactful verse, but not embarrassing by any stretch). Then later that night Taylor brought Ice on stage at MetLife stadium to the delight of 82,000 Swifties. Doesn't get more mainstream than that. Truly crazy for an artist that started rapping recently and still has yet to release an album.
Yes, it's been hockey stick growth for the former volleyball player and communications major. And I'm very happy about that, for her and her producer RIOT (whom I interviewed pre-"Munch" btw). Especially because Ice's stated goal was to be a global superstar.
But I didn't really think deeper about it until I had an argument with the homie on the phone yesterday, while I was on my way to pick my daughter up from school. I will try to recount it here.
My friend's contention was this type of ascent is bad. Not that Ice Spice is bad. She's good — good voice, good POV, good instincts, good beats, good way of handling herself in the spotlight, good style. But rather, the growth has been too fast and is unhealthy for her young career, putting unrealistic expectations for more and different material on a person who might not be ready to fully deliver. My friend said that with Ice's so far limited range and experience, positioning her at the top of the pops right out of the gate was a recipe for letdown.
In addition, he argued her crazy arc supports a harmful idea that the way to succeed in rap is to obsessively monitor social media and hope to get extremely lucky, which downplays musical skill and and gives too much power to the socials, which are inherently evil.
I said well, what is Ice supposed to do when a Taylor collab is on the table? Walk away??
He said yeah. Because what Ice Spice deserves, which we agreed on, is a long and fruitful career. And my friend said to have that, she needs to focus on her craft and to build community with other artists.
Those were points that I had a difficult time going against, because I do admit that she could grow as a rapper, and also that she was never really in community with the rest of NY drill or wider rap, which could have benefitted her in an iron sharpening iron type way. RIOT, yes — he's grown from working closely with A Lau, Chrissaves, and other NY producers — but Ice doesn't have a crew, didn't really come up doing hella features with other drill artists or dropping collab loosies or anything like that. She's been sort of closed off from "the scene," so much as there is one.
But then I said, maybe that's all fine! We're here, now. We can't go back in time. Why can't Ice work on her writing, delivery and lyricism and build a musical network at the same time as her career skyrockets? And we agreed it was possible, and at this point, the only way to play things.
In the end, I think my homie was overlooking that Ice and RIOT came up with their own angle on drill and it hit organically, way huger than they could ever have imagined. They had to ride a wave that was scary big, but they had to ride that shit. You can't risk wasting that momentum, right? And they haven't. They've even rode it gracefully, I would say. So far there have been no musical misses, and no bricked fits.
We ended the argument by agreeing on what her next steps should be, playing my favorite game which is armchair A&R.
And with that, I had to get off the phone, because it was time to pick my daughter up from school. And I went back to my family life where everyone thinks I'm insane and annoying for talking about music like this.